Welcome again to the Guide to Geekdom. I'm tired of writing only film reviews. I'm also tired of my feet hurting and not being waited on hand and foot. With that mindset, I decided to come up with the Top 10 Greatest Butlers list. Searching all of Geekdom, I have selected the best of the best of all butlers. Before I start this list a few notable mentions of butlers who were considered for this list but ultimately didn't make the cut:
-Klahadore (One Piece)
-Rosie the Robot (The Jetsons)
-Wong (Dr. Strange)
Now without further ado let's start this list
10: Edwin Jarvis (Iron Man)
Jarvis has long serviced Iron Man and then latter on the Avengers, being the one constant that the team has always had. On occasion Jarvis has even joined the Avengers on some of their heroic adventures. When Iron Man wanted a new butler to replace Jarvis after he left to go serve the Avengers full time, he simply programmed a powerful artificial intelligence to be a copy of Jarvis. The program was named Just A Rather Very Intelligent System. This computerized version of Jarvis is what appears in the Iron Man films.
9: Mercy Graves (Superman: the animated series)
Mercy Graves is the bodyguard/ assistant to Lex Luthor. Graves is almost loyal to Luthor to a fault, blindly following his every whim and need. Graves gained the attention of Lex Luthor by once stealing his briefcase without his notice. The feat had impressed Luthor and he has had her as his assistant ever since.

If it weren't for Luthor's tendency to only care for himself, he would have her absolute loyalty.
8: Max (Cats Don't Dance)
Max is the loyal manservant to the evil Darla Dimple (an evil Shirley Temple for those who haven't seen this film). He is literally a mountain of a man who is a force of nature in his own right. Darla uses Max throughout the entire movie as an enforcer who ensures she gets absolutely everything she wants no matter what. Max is representative of the uphill battle it is for unknown actors to enter the show business industry.
7: Lurch (The Addams Family)
"You rang?" This Frankenstein like butler is the faithful servant to the abnormal Addams Family. Lurch may not be the greatest butler, but he takes great pride in his work. Lurch is fully willing to do any task for the Addams, no matter how demeaning. At times Lurch appears to grow tired or annoyed of his employers, but he considers them family and will continue to serve them without end.
6: John Lawless (The Happiest Millionaire)
John is the most recent butler for the Biddle family, but he is also the longest lasting butler. John's bizarrely always chipper nature has allowed him to easily jump into the antics of the Biddle family and become one with the family. At one point he even ends up getting a dance number with an alligator in the film. John is a great butler because he is able to perfectly adapt himself to the Biddle's every need and always gets the job done one way or another.
5: Kato (The Green Hornet)
Kato is the butler/sidekick to the crime fighting hero The Green Hornet. Kato is a skilled chauffer who drives The Green Hornet anywhere in The Black Beauty (basically their Batmobile).

Kato is a master of martial arts (helped by the fact that he was originally played by Bruce Lee). Kato's popularity was so great that they renamed the TV series The Kato Show in Hong Kong. Of all the super heroic dynamic duos, The Green Hornet and Kato have always been a fan favorite.
4: Domovoi Butler (Artemis Fowl)
The Butler family has been in the service of the Fowl family for centuries. Each of the Butler Family members are train to be the ultimate bodyguards and servants to the Fowls. They are all assigned a family member to protect, acting as a constant second shadow, obeying every command without hesitance. Domovoi is one of the greatest bodyguards in his family and has followed Artemis Fowl II mastermind adventures through the long hidden realm of magic. He is also the only human to have engaged a troll in combat and win.
3: Walter C. Dornez (Hellsing)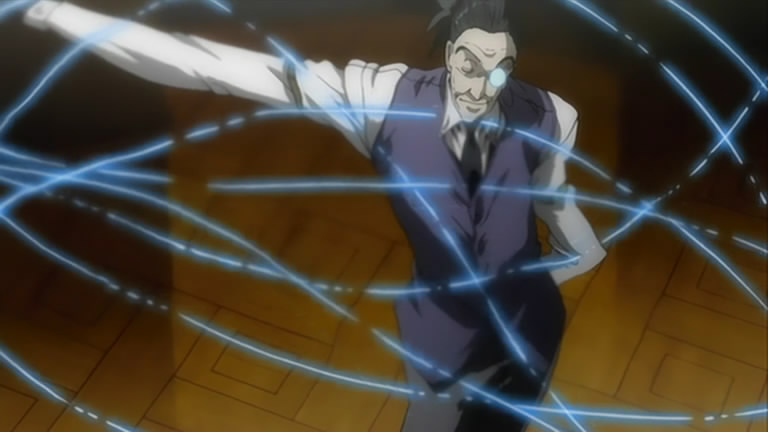 Is there nothing scarier than meeting the angel of death incarnate? Perhaps if you found out he was the butler to someone even more powerful. Walter has long served the Hellsing organization as their lead vampire hunter, being famous for his ability to wield microfilament razor wire as if they were but an extension of his own body. Being in the later years of his life Walter retired from being the lead vampire hunter to being Hellsing's butler. It is an absolute feat to be considered the Angel of Death incarnate by Alucard himself.
2: Alfred Pennyworth (Batman)
I suppose you were expecting this one. If there was one butler that anyone could remember off the top of their heads, it would be Alfred. I really don't think I have to go further in with this character other than he is Batman's butler. If you honestly can't remember his name, you will know him as Batman's butler.

A constant alley to the Dark Knight, you will be hard pressed to find a better butler.
That being said here is number one…
1: Sebastian Michaels (Black Butler)
"Suddenly, Ciel came back, along with a pitch-black butler."
If you have never picked up this series, you are missing out. What if you had a butler that could accomplish absolutely every task or order you gave him? What if this butler would also act as a guiding light, leading you to your ultimate destiny of vengeance towards everyone who had ever wronged you or tarnished your honor? What if this butler would go to the ends of the Earth just to service your every whim? What if, at the end of it all, all he wants in return is your soul? Sebastian Michaels is the ultimate butler, because he is a demon. Signed into a Faustian Contract with Ciel Phantomhive, he will act as the boy's greatest servant until his life's goals are completed. On that day he will collect his soul and devour it, but until then he will remain at his side as his black butler.