Hello and welcome back to the Geekdom. Yes friends it's that wonderful time of the season again. A time of sharing, caring, and scaring the living daylights out of little trick or treaters. The most classic of monsters in my opinion is the skeleton.

One of the purest symbols of death, the skeleton has long been used for fear, which is why I decided to make this list. As per usual I have my runner-ups:
-Death (Family Guy)
-Blazing Skull (Invaders)
-Death Jr. (Death Jr.)
And now let's get into the Top 10 Skeletons
10-Blight (Batman Beyond)
In the not too distant future of Gotham, Batman retired from his life of crime fighting and disappeared from the public eye as Bruce Wayne. In his stead, Wayne Industries was taken over by the corrupt businessman, Derek Powers.

Derek becomes infected with a deadly mutagenic gas that he had developed when the new Batman stops him from using it as a weapon. To save his life, Derek undergoes a radical radiation experiment. The experiment succeeds but not before transforming him into a radioactive monster. Going by the name Blight, he now spends his days trying to gain vengeance against Batman.
9 -Dead Tom (Muppet Treasure Island)
'DEAD TOM'S DEAD! LONG JOHN SHOT HIM!'
'…….but Dead Tom 'as always been dead. That's why he's called Dead Tom.'
I…………………………………………………………………….
Love this joke……………………..
That's it, next one
8 -Stal (The Legend of Zelda)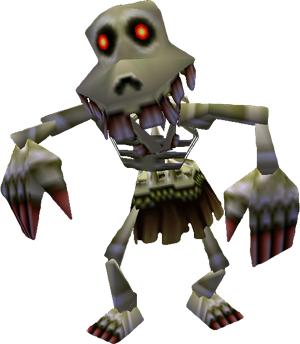 The Stal is a species of re-animated monstrous skeletons. In Ocarina of Time, once the sun goes down the Stal come out. Swarming in packs, the Stal can quickly overwhelm any hero who chooses to stay out at night for too long.

The Stals come in a variety of sizes from the tiny Stalchild, to the adult sized Stalfos Knights, to gigantic beasts such as the Stallord, each being more powerful than the last. The Stals have always represented a challenge to the Hero of Time.
7 –Captain Hector Barbossa (Pirates of the Caribbean)
Originally the first mate of Captain Jack Sparrow, Barbossa and the crew mutinied when Jack revealed the location of the Aztec gold. Having plundered the gold, Barbossa and the crew became cursed as skeletal beings with desires that can never be met. Driven mad by this lack of fulfillment, Barbossa and his damned crew set out to collect every piece of gold back in order to undo the curse.

He eventually succeeds in this goal only to be shot dead moments later, though his rotting corpse was resurrected by the sea goddess, Calypso, in order to aid her in breaking her own curse.
6 –Eliza Faust (Shaman King)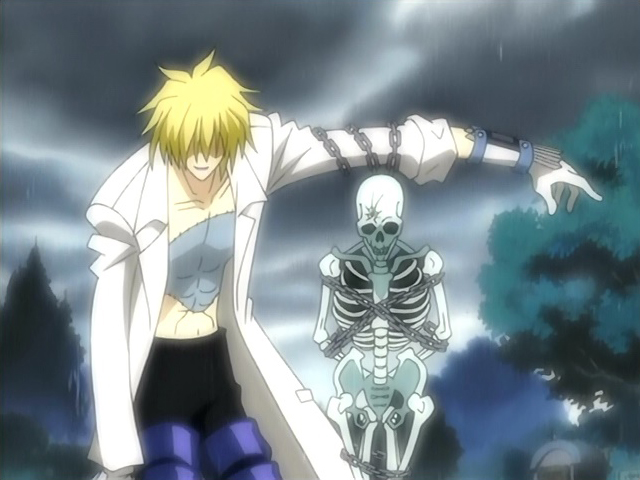 Dr. Johann Faust VIII was a happy man. He slaved in his medical studies to be able to find a cure for his dearest love Eliza. Eventually he was able to develop a cure and save her life. Faust and Eliza married and set up a clinic together, living immensely happy lives together. All brought to a tragic end when a thief with a gun, shot Eliza in the head. Going mad from the loss, Faust delved into his distant ancestor's (Dr. Faustus) supernatural dealings. Using his newfound powers, Faust is able to animate his wife's skeleton through the power of her soul.

Not being able to fully resurrect his dear Eliza, Faust enters the Shaman King tournament in a bid to use the god like powers to bring her back to him.
5-Lord Fear (Ace Lightning)
One of the most feared beings in the Sixth Dimension, Lord Fear was once good friends with the hero Ace Lightning before a terrible accident lead him to his current state. Lord Fear now seeks to use the fabled artifact, The Amulet of Zoar, in order to conquer all of dimensional space. Running with a small band of villains, Lord Fear operates in the Carnival of Doom, battling the Lightning Knights with his magically empowered staff.
4 -Skeletor (He-Man and the Masters of the Universe)
Ooooooooooh Skeletor. I have no words for someone as silly as you. Cited as the archenemy
of He-Man, I honestly can't see why he represents such a threat. I mean really, the guy can't even come up with a strong insult on a day to day basis. Skeletor's main goal is to break into Castle Grayskull and steal its ancient secrets that will allow him to conquer Eternia, but we all know this guy is never going to reach his goal.
3 -Grim (The Grim Adventures of Billy and Mandy)
In an attempt to win the life of their pet hamster, Billy and Mandy won a game of Limbo against the Grim Reaper, and consequently won his servitude to them. Now Grim exists in his day to day experience having to obey the whims of the sadistically cruel Mandy and the immaturely insane Billy. Grim wishes nothing more than to be free of these two afflictions but as of yet has not found a way to break free of his contract.
Brook was once a member of the Rumbar Pirates. During an assault be a rival crew, the Rumbar Pirates managed to defeat the crew but were all badly poisoned. Being a pirate crew of musicians, the Rumbar Pirates spent their final moments reciting the song Bink's Sake. The entire crew passed away, but having eaten the devil fruit, Yomi Yomi, Brook gained the ability to return his soul to this plane of existence. Unfortunately, Brook lost track of where his ship and body had drifted to. Finding it years later, Brooks' body had been reduced to nothing but a skeleton, but his soul was still able to possess it.
1 -Jack Skellington (The Nightmare Before Christmas)
'Wont' ya please make way for a very special guy;
Our man jack is King of the Pumpkin patch
Everyone hail to the Pumpkin
King
now
!'
Jack Skellington has become an icon. He is a person who is well liked by most and has nothing wrong going on in his life, yet still finds himself unfulfilled, which has left him in a slightly depressive state, which makes him so easily connectable. This journey to find himself has allowed countless people to connect to him as we have all felt this pain one way or another. Jack's failed attempt to reinvent himself through Christmas doesn't throw him into a deeper stupor, quite the opposite, it reinvigorates him and he begins to see the joy he took in his old life again, inspiring others to see the joy in their own lives as well.
I'm the Guide, thanks for reading and
Happy
Halloween.